The Case for Revolutionizing How We Teach Web Design – Education – GOOD.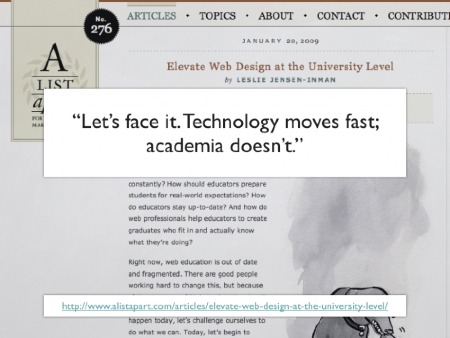 I remember when my alma mater introduced web development to it's graphic design curriculum (I jumped ship before ever taking the courses, but I'm talking timeline).  Later that year I was exposed to HTML for an unrelated year-end project and began a long road of self-education.  Now the web is the center of my career.
I'm sure my kids will learn HTML by the time they're in early grade school and it will be for them what cracking c64 software was for me.  No one taught me how to crack into code—I journeyed into that world on my own and don't think I could have taken any other path. When you get a kid interested in anything early there's no holding them back—but you can't institutionalize enthusiasm.
Academia moves slowly—that's why I majored in ancient history. The tech landscape is moving way too quickly to keep up.